We take pride in our experience and competence
Bärbel Sachse, Alexander Korolkow, Robin Mitchell and Marina Goiny make up our permanent team. Conference engineer Jochen Sachse rounds off our team.
Interpreting is a matter of trust. On our way in the business, we have encountered many a skilled interpreter.
Our broad network thus allows us to expand our own team at any time as required.
We strive towards excellence in quality.
Our collaboration with our clients is of utmost importance to us as well. Great quality requires great preparation!
An appropriate timeframe and the opportunity to become acquainted with the subject matter at hand are fundamental prerequisites for high-quality interpreting.
---
Our team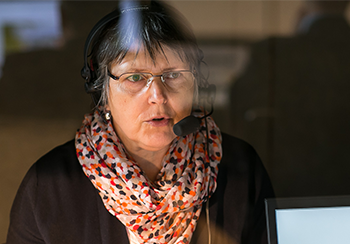 Bärbel Sachse
Focus
simultaneous and consecutive interpreting, translating
Languages
German (A), Russian (B), English (C)
Read more
Alexander Korolkov
Focus
simultaneous and consecutive interpreting, translating
Languages
German (A), Russian (A), Czech (C)
Read more
Robin Mitchell
Focus
simultaneous and consecutive interpreting, translating
Languages
German (A), English (A)
Read more
Marina Goiny
Focus
simultaneous and consecutive interpreting, translating
Languages
German (A), Russian (A)
Read more
Jochen Sachse
Conference Engineer
15 years of professional experience
Organising and providing support for online conferences, RSI
Hosting of ZOOM conferences