WE TRANSLATE FOR YOU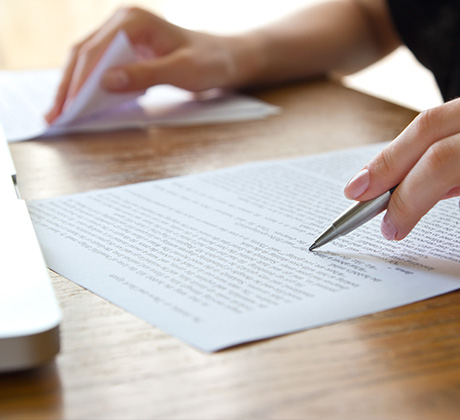 Technical documentation, conference materials, your company's website and much more. Our translators translate into their mother tongue, have comprehensive training in the field and many years of professional experience.
We also offer certified translations.
Selected subjects
| | |
| --- | --- |
| | TECHNOLOGY |
|   | instruction manuals, technical presentations, press releases, company presentations, catalogues, product descriptions etc. |
| | |
| --- | --- |
| | MARKETING |
|   | press releases, websites, company presentations, interviews, fair presentations etc. |
MEDICINE

 
specialist articles,
doctor's reports,
expert opinions, studies etc.
LAW

 
company agreements, statutes,
trade register  excerpts,
expert opinions, verdicts,
notarised agreements etc.
| | |
| --- | --- |
| | BUSINESS & FINANCE |
|   | annual balance sheets, business reports, presentations, websites etc. |
| | |
| --- | --- |
| | POLITICS |
|   | presentations, progress reports, interviews, speeches, media reports, conference documentation, CVs etc. |
| | |
| --- | --- |
| | PRIVATE CLIENTS |
|   | school reports, CVs, graduation certificates, employment references, marriage, birth and other certificates, private correspondence etc. |
FEEDBACK
... we would like to thank all interpreters wholeheartedly, who supported us at the 4th Moscow Economic Forum (Moskauer Wirtschaftstage) in Düsseldorf.
The event's success can be largely credited to the exceptional performance by the interpreters, who – once again – mastered even difficult topics effortlessly. We really received very positive feedback on your work from all sides.
Let me thus say "see you next time"
& send warm regards from Düsseldorf ...
Bettina Gausmann.
State Capital Düsseldorf, economic promotion
… many thanks – albeit delayed but just as heartfelt – for the great support at our congress!!! Again, collaborating with you was a lot of fun. Participant feedback was positive all around and we hope that your colleagues enjoyed it just as much …
Barbara Heeskens.
Fraunhofer Institute for Laser Technology ILT
... first of all, I would like to thank you for your Christmas and New Year wishes and our collaboration that has always been great, as well as your reliable high-quality services. We can't predict with certainty, unfortunately, what the new year will have in store for us, but we are hoping for many more interesting events and your language support, of course.
Best regards and all the best for 2010,
Anke Zimdars.
German Committee on Eastern European Economic Relations
… Thank you for your service at our conference in Potsdam. I had no doubt that you would excel in this job. We always enjoy working with you and look forward to further great collaboration in the future.
Dorota Stroinska.
Friedrich-Ebert Foundation, International Dialogue/Central Eastern Europe.
… the first ICCEES Regional European Congress and fascinating, inspiring and intensive congress days are behind us. With 570 participants from 36 countries in Europe, America and Asia, the feedback from the congress titled "Transcending Europe's Borders. The EU and its Neighbours" was very big and most positive.
…I would like to thank you wholeheartedly on behalf of the German Association for East European Studies (DGO) for the reliable and exceptional language support in the implementation. As always we were extremely impressed and highly satisfied with the performance of your colleagues.
Dr. Heike Dörrenbächer.
Managing Director.
… I would like to thank you and your team wholeheartedly for your once again excellent collaboration on behalf of myself and on behalf of the Steering Committee of the Petersburg Dialogue.
Once more, you employed highly professional interpreters in close collaboration with our organisational team, who made a major contribution through their services to the successful running of the discussions in the eight working groups …
Dr. h. c. Lothar de Maizière.
Chairman of the Steering Committee Petersburger Dialog e.V.
... It is always a delight to collaborate with you. Our events wouldn't be the same without your exceptional, professional team, during the preparation period as well as at the event…
Susanne Kafemann.
Messe-Reisen Falk GmbH.
...The interpreters of ask@co Sprachendienst GmbH have played an essential part in the successful running of various events.
We would like to thank you whole-heartedly for your professional support from your team on behalf of the employees of DRF e.V. and would like to give a special mention to Ms. Bärbel Sachse and Mr. Alexander Korolkow.
Anna Kaiser.
Deutsch-Russisches Forum e. V.
Dear Ms Sachse,
I would like to extend a warm thank you to you and your whole team today on behalf of my client and myself for excelling at meeting our translating and interpreting requests, which are extremely challenging in terms of language, field and deadline. This applies especially to the working languages German, Russian, English, Polish and Czech, providing professional skills and expertise in the field without fail as well as your reliable services for more than eight years at this stage. 
Regina Dyka, Language Service Leader.
Gazprom Germania GmbH
The customer was highly satisfied and everything went very well.
Thanks again for your great interpreter and the prompt service.
I am very pleased that we can always rely on your services. 
Best regards,
Martina Reisenweber.
Messe Reisen Falk GmbH
...Thank you again for the opportunity to schedule test calls for all of our speakers. It was very helpful and useful for everyone. ... I am delighted that we have been able to continue the bilateral exchange in our working groups successfully via ZOOM. Thank you very much again for your comprehensive support and preparation! 
Warmest regards,
Maren Schrobar.
Petersburg Dialogue
…It really was very enjoyable! We received a lot of praise for the interpretation, both technology- and content-wise. Mr Sachse, we would also like to thank you very much for hosting the ZOOM event. It was wonderful.
Almut Wetjen.
German Eastern Business Association
...Many thanks to you and your colleagues for your excellent support at our meeting on Friday and at our discussion last Wednesday. As always, your services left nothing to be desired!
Thank you again and best wishes,
Raliya Ostendorf.
Deutsch-Russisches Rohstoff-Forum
...Thank you so very much, also on behalf of Ralf Fücks and Sergey Tsyplenkov, for organising such a perfect online event for us today! And a huge thank you to both interpreters for their fantastic work!
We look forward to working with you in the future! 
Best regards,
Daria Malling.
Center for Liberal Modernity
Dear Ms Sachse,
We would like to take this opportunity to thank you and your interpreters, once again, for your excellent performance at the 30th Congress of German Civil Law Notaries. Collaborating with you and your interpreters is always a joy and highly professional.
Best Wishes,
The organisational team of the Congress of German Civil Law Notaries.
Dear Ms Sachse and the Askco team,
Thank you so very much for the link and for your excellent interpretation and technical support at our event! We were extremely pleased.
Best wishes,
Lisa Tomilets.
Center for Liberal Modernity
It was nice to see you yesterday. Also I found your office was very comfortable, and the sound quality was excellent. [...] Thank you for giving me the opportunity to work with you this time. I hope our paths will cross again. Until then I wish you all the best.
Kind regards,
Keiko Graumann-Fujii.
Conference Interpreter
...We were, once again, very satisfied with your services. It's wonderful that everything is running so smoothly. Your professional simultaneous interpretation is a real asset to our events, especially since our international discussion rounds flow so effortlessly as a result. [...]
Best wishes,
Jens Klauenberg.
Logistics Alliance Germany
I would like to highlight the interpreters. Some of the audience members told me that they did not realise the event was being simultaneously interpreted. They thought the speaker was actually speaking Russian. What a compliment! [...]
All the best,
Ruslana Rosa.
IRZ
...Thank you very much for your support yesterday! The event went incredibly well and we have received an overwhelming amount of positive feedback, especially with regard to the interpretation. It is always a great pleasure to do businesss with you.
Warm regards and see you next time!
Daria Tashkinova
Center for Liberal Modernity.
...It was always comforting to know that you and your team, expert translators and interpreters, were always ready to support us in our events and translation projects – because the first step to communication is understanding. We always knew we were in the best hands with you in this regard – we didn't have to worry about the linguistic part. I would like to thank you for the appreciative, amiable collaboration, the clear communication and the willingness to always make the best of everything, even when circumstances were challenging.
Warmest regards,
Astrid Nebelung.
DRJA
...Thank you so very much for your exceptional support yesterday at our workshop! It would have been impossible without you and your team!
Thanks again and best wishes,
Laura Stenmans.
dena
...Thank you and your interpreters very much for your support yesterday. ... Our guests and speakers thoroughly enjoyed the interpretation, as always, and we received very positive feedback after the event.
Best regards,
Daria Tashkinova.
Deutsche Sacharow Gesellschaft e.V.
...It was a pleasure to work with you and your team last week. You have done a wonderful job! Thanks a lot for your professionalism, team spirit and understanding.
Best regards,
Hélène Giraud.
UN.org
REFERENCES