WE ARE YOUR SERVICE PROVIDER FOR ONLINE EVENTS
TECHNICAL SUPPORT
looking after your conference
with our competent tech staff
test calls
management of moderators' and
participants' rights (video, sound,
co-host etc.)
sharing of presentations & videos
support for breakout sessions
remote support for your interpreters
creation of surveys, recordings,
livestreams, reports etc.
FIBRE OPTIC INTERNET
high-speed and reliable
ZOOM BUSINESS-LICENCE
incl. interpretation feature –
up to 300 participants, or more on request
MINI HUB
up to 6 interpreting workstations
at our offices
REMOTE PLATFORMS
support of alternative remote platforms
on request
Fully equipped workstations
Our offices in the centre of Berlin provide workstations for up to 6 interpreters. The workstations are fully equipped with laptops, headphones, etc. and are maintained by our conference engineer. The walls are fitted with sound-absorbing panels to ensure excellent acoustics in the room.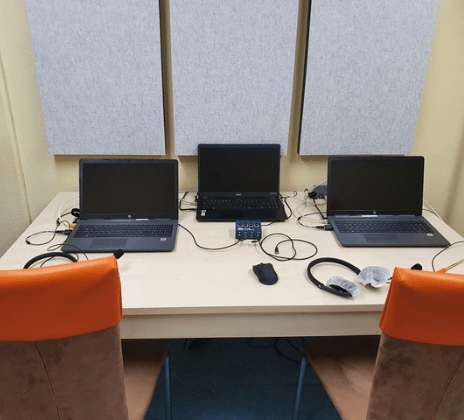 FEEDBACK